RENTAL MARKET
Plant hire, equipment rental, leasing, call it what you will, being able to use a machine when and where you need it, with no further concerns relating to ownership costs, depreciation or sudden repair bills, remains a compelling argument for many contractors. Which is one of the main reasons for the continued growth in popularity of equipment rental across the world. Rental has been big business in the UK, the US and some European countries for many years, indeed at least 80% of all machinery sold in the UK market goes to plant hire companies. However it remains a minor part of the construction equipment mix in other countries, as contractors prefer the security of asset ownership and machine availability, over the convenience and off-balance sheet attraction of rental.
Rental has also become an important outlet for many equipment manufacturers, not just as a possible customer, but as an operating division. The Cat Rental Store was among the first to become a regular feature of the market, in effect competing directly with some of its own customers. Liebherr also offers a rental business, though only of its own equipment, in the UK, Germany, Austria, Switzerland and France, while Volvo and Case have had rental interests too.
The Cat Rental Store remains the largest however and now has 1,429 dealer-owned locations across the world, providing bothCat and non-Caterpillar equipment.
"Cost of ownership, economic cycles, duration of jobs and contractors covering a wide range of geographic areas making transporting equipment less attractive, are all factors," said a Caterpillar spokesperson.
"Cat dealers are making it easy for customers to do business by providing the latest technology in machines, with fleets of young equipment supported by expert advice to select the best solution for the job.
"As the economic situation across the globe is uncertain, rental will be more and more a solution that our customers will be looking for. We have markets that are already mature such as the UK or France, with high rental penetration, but rental penetration is growing in emerging countries too," said Cat.
"Clearly specialisation is one of the trends that is being followed by many rental companies in Europe, while our network, with a large offer of Cat and complementary equipment, is able to provide machines to all the different sectors."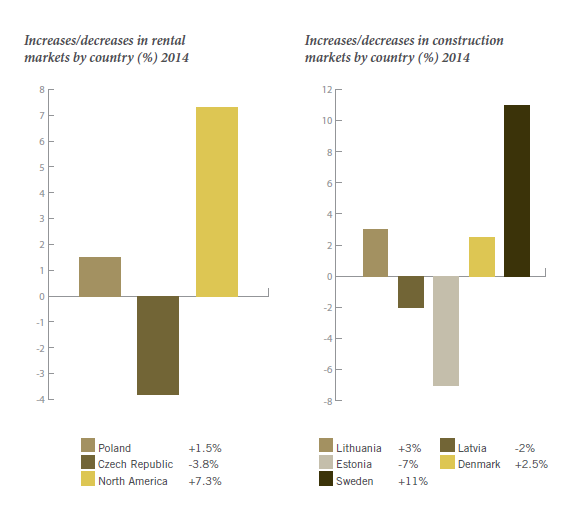 USED EQUIPMENT
IN-HOUSE REMARKETING
One of the biggest challenges for those traditional used equipment dealers has, for some time now, come from the OEM manufacturers and their dedicated dealer networks, with approved used machinery programmes becoming an increasingly popular sector of the business. By marketing used equipment alongside new, those dealers have a greater business opportunity for a wider buying audience. More importantly, by marketing used equipment alongside new, they can attempt to retain the profitable service and maintenance aspect of machine ownership, through the second and even the third life of the equipment. The benefit for the customer is that while prices may be slightly higher from an authorised network outlet, in most cases the dealer will have carried out extensive checks on the machine before providing a manufacturerbacked warranty, offering additional peace of mind for the customer.
In the case of schemes like Volvo's Approved Used programme for instance, the warranty can be as long as one year or 1,000 hours of operation, which could be particularly attractive to a customer. In addition the dealer has access to the manufacturer's finance business, to provide any necessary funds and a range of purchase options. The most popular equipment within the Cat Certified Used programme includes dozers, excavators, motor graders and wheeled loaders. "Europe, Africa and the Middle East, Cat used equipment sales have been increasing more than the industry at large and more than new machines sales," said a spokesperson.
"Our used equipment solutions are popular, as purchasing used equipment can be a time consuming and risky business.
"The Cat Certified Used programme provides manufacturer-backed extended coverage on machines with less than 10 years and less than 10,000 hours. Every used machine that achieves 'certified' status has undergone a rigorous 140-point inspection and is serviced using genuine Cat parts, fluids and filters."
India is the 5th largest and fastest growing construction equipment market in the world: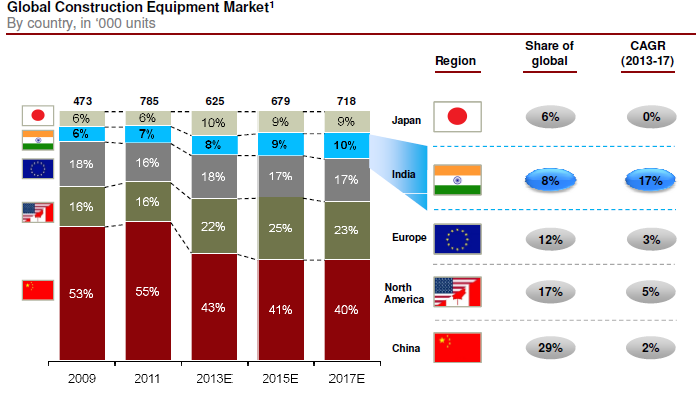 Method of equipment procurement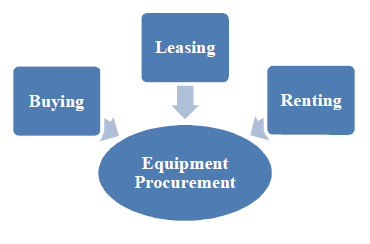 Indian construction equipment market:
The Indian construction equipment market has been volatile for the last few years. After an unprecedented four-fold growth in four years since 2003, the construction equipment demand in India exceeded 50,000 units for the first time in 2007, but declined by nine per cent in 2008 in the wake of the global economic crisis and witnessed a further drop of 11% in 2009.
The market recovered strongly with a growth of 45% in 2010 and 22% in 2011, when it peaked at 72,197 units. However, limited access to long-term finance, high inflation, delays in policy decisions and statutory clearances for infrastructure projects adversely affected the sales leading to a market declined by eight per cent in 2012 and a further 15% drop in 2013 to settle at 55,946 units.
In terms of the number of units sold, the Indian construction equipment market is dominated by six machine types. Of these, backhoe loaders, crawler excavators and mobile cranes together accounted for 78% of total market in 2013 against 74% in 2008. While the combined share of mobile compressors, compaction equipment and wheeled loaders decreased from 19% in 2009 to 18% in 2013, the share of remaining equipment declined from seven per cent in 2009 to five per cent in 2013.
The market structure has remained more or less unchanged for the past five years, but vast differences are noticeable while evaluating the performance of individual products. The share of the most popular product, backhoe loaders, grew from 38% in 2009 to 50% in 2013, while crawler excavators, considered to be the most important machine for infrastructure building, declined from 20 to 18% during the same period.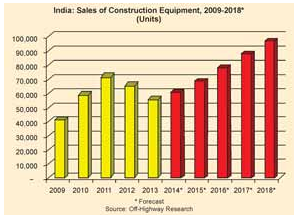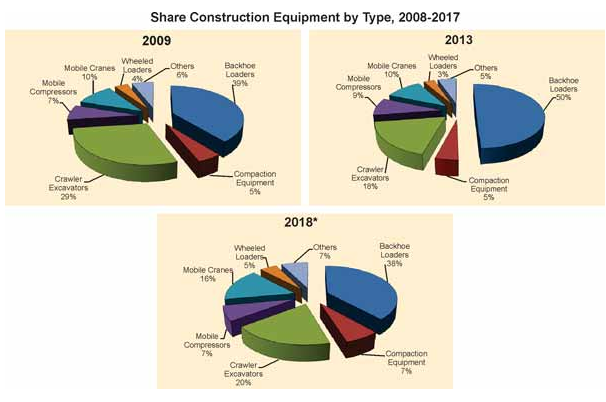 Mobile compressor was another equipment that improved its contribution from seven to nine per cent. The share of balance equipment declined with mobile cranes dropping from 16 to 10%, compaction equipment from seven to five per cent, wheeled loaders from five to three per cent and other equipment from seven to five per cent.
Off-Highway Research forecasts the crawler excavator to be the fastest growing equipment type, which will account for 29% of the market in 2018. Backhoe loader will continue to be the most popular equipment, but its share will decline to 39% and that of mobile compressors to seven per cent. No change is expected in the contribution of mobile cranes and compaction equipment, while some growth is projected in the shares of wheeled loaders and other equipment.
The current state of the market can be summarised as follows:
Of the six major machine types that dominate the market, sales of four products declined in 2013, one remained almost flat while the sixth showed an upward movement. Their cumulative sales fell by 17% in 2013, while the combined sales of the remaining machines increased by 10%.
The Winners: The market for ten equipment types declined in 2013, while six equipment types recorded gains. The highest growth was noticed in rigid dump trucks, which grew by 45%, followed by mini excavators at 24%, mobile compressors at 13% and skid steer loaders at 11% while asphalt finishers increased marginally. 10 units of articulated dump trucks were sold in 2013 against no sales recorded in 2012.
The Losers: Among the losers in the market for major equipment types, mobile cranes declined by 32%, crawler excavators by 26% and backhoe loaders by 14% in 2013. Wheeled loaders fell by six per cent and crawler dozers by three per cent and motor grader sales declined by 13 per cent. Crawler loaders, wheeled excavators and RTLTs recorded a 67, 42 and 11% drop respectively but on insignificant sales volumes.